As the head of the socio-spiritual group Dera Sacha Sauda, Baba Ram Rahim is currently the talk of the town.
Over millions of followers, Gurmeet Ram Rahim Singh is also a singer and actor. In 2002 one of Baba's female followers accused him of sexual abuse. The follower had written an anonymous letter to the Prime Minister of India Atal Bihari Vajpayee. A CBI probe was ordered in the same year. Since then the case has been pending in the court.
CHANDIGARH'S SECTOR – 16 CRICKET STADIUM TO BE USED AS JAIL ON 25TH AUGUST; BABA RAM RAHIM RAPE CASE VERDICT
But Now the situation is getting worse from the past two days in City-Panchkula(Haryana). As per the Circumstances, The Chandigarh administration's order to convert the Sector 16 cricket stadium into a temporary jail on Friday — the day a Panchkula court is set to announce the verdict in the rape case against Dera Sacha Sauda chief Gurmeet Ram Rahim Singh — has sent the UT sports department into a tizzy.
It would be difficult to protect the pitch if the number of arrests was high or in case of rain on that day. "It will be difficult for us to manage the crowd. The police have to keep the arrested away from the pitch. We will not be fighting with the crowd, which will already be upset," said the groundsman.
All roads adjoining Panchkula's District Court complex as well as the dividing roads of sectors 1 & 2 will be closed for two days. Police are also making sure to verify the identity of people who are already staying at guest houses in that area. The district court will also remain closed for 3 days i.e. from 23rd to 25 August, to avoid any kind of harassment and violence. A recent development in this is building a new jail in Chandigarh. Not literally building one but make use of the already existing space.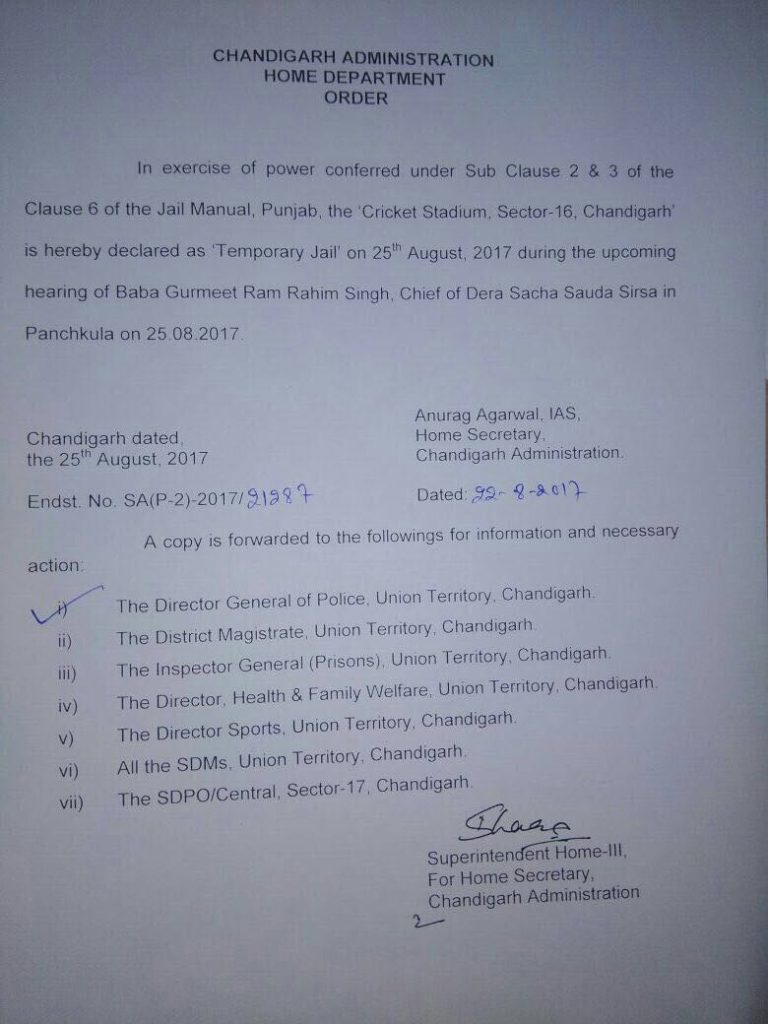 An order by the Chandigarh Home Secretary has been released to convert 'Cricket Stadium, Sector-16 Chandigarh' into a temporary jail. This order has been released under the 'Sub clause 2 & 3 of Clause 6 of the Jail Manual, Punjab'. The order strictly says to use the cricket stadium as a jail for 25th August.