Best IBPS Coaching Institute in Chandigarh – Hello, friends In today's world everyone want to do a government job and when it comes to the post like Bank PO it is little difficult to get. After completing Graduation degree most of us dream to have a Bank job, especially in the banking sector. There are hundreds of coaching institute in Chandigarh for bank PO exam but few of them are the best. So, if you are want to know 5 Best IBPS Coaching Institute in Chandigarh then take a look at this report which you may be waiting for.
What is IBPS (Pre | Mains) Exam?
IBPS department schedule IBPS Exam (CWE 7) Online exam in two parts 1. IBPS Preliminary Exam and 2. IBPS Mains Exam for Clerk and PO posts.
All participants who successfully registered himself/herself in PO/MT VII and CWE CLERK VII exam they will be firstly fighting with (Preliminary) pre-exam and Shortlist candidates in preliminary examination will be called for Main Exam and marks scored in mains exam will be decided for shortlisting for the interview.
IBPS PO Preparation Tips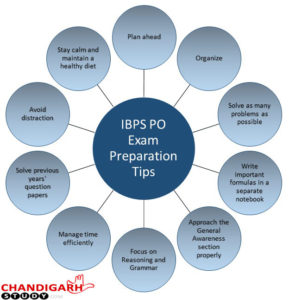 Almost one month before the exam begins, I would suggest buying current affairs books and you can also buy pritiyogita darpan to know the details regarding current affairs.
Computer knowledge required for any competitive exam is not very high level, but basic. This is an important and scoring area if you have basic knowledge of DOS, Visual basic, Network Topologies, MS Office, MS windows, etc.
Candidates are advised to solve the sample paper regular basis and with the help of paper, you can check your performance where you stand before the exam.
Many questions asked in the IBPS PO exam in current affairs are so easy, they are like grace marks, provided you at least read the newspaper.
5 Best IBPS Coaching Institute in Chandigarh with Fee Details
1. Surbhi Academy
Surbhi Academy is a great institute which is growing in the banking sector in Chandigarh. Those students who are little weaker in Maths and Reasoning can go there and join the institute. In Chandigarh that are many institutes our of which Surbhi Academy come on the top. I personally join this institute and take more than 5 class I found that the study environment, as well as the study material which they provide to you, are good. Institute's commitment to assist students and to guide them in a professional way to achieve their goals is one of the unique features it is known for.
Address: SCO 54-55, 3rd Floor, Sector 34A, Chandigarh, 160022
Phone No. 9878375376
Timings: 8 am to 9 pm
Website: http://www.surbhiacademy.com/
Course Fee: Rs 12000
Course Duration: 3 months
2. Chandigarh Academy
If an Institute is growing day by day then it is Chandigarh Academy. we personally recommend our user the best class coaching which they can get, Some of the institute in Chandigarh is very old due to which their response is also good but in these days New coaching Institute is also giving a good experience to user, In our previous post we also told you that we prefer Chandigarh Academy for SSC, NDA, coaching as well. It offers different teaching modules.
Address: SCO 54-55, 3rd Floor, Sector 34A, Chandigarh, 160022
Phone No. 9915109266
Timings: 8 am to 9 pm
Website: http://www.chandigarhacademy.com/
Course Fee: Rs 12000
Course Duration: 3 months
3. Defense Academy
Defense Academy is considered to offer a good value for money and the faculty is also very good. Defense Academy is located in Sector 34A, Chandigarh as well as Mohali and Panchkula. Defense Academy.When it comes to the top banking institute in Chandigarh as well as in other parts of India you can go to Defense Academy. In these days there are various coaching centers who are giving coaching for SSC, NDA, and bank together but Defense Academy is also specialized in banking. you can also take demo class before joining the Institute.
Address: SCO 54-55, 3rd Floor, Sector 34A, Chandigarh, 160022
Phone No. 9915337448
Timings: 8 am to 9 pm
Website: http://www.defenceacademy.in/
Course Fee: Rs 10000
Course Duration: 3 months
4. IBT Institute, Sector 34
One of the most prominent Bank Coaching Institutes in Chandigarh is IBT Institute, that has a Bank PO Coaching center in Chandigarh, has established itself as a successful Institute in Chandigarh. Backed by a team of highly qualified teachers, the Institute supports and trains numerous aspirants preparing for numerous competitive exams and Bank PO coaching is one of them. This Chandigarh based Institute follows extensive training programs to nurtures the students. It offers different teaching modules.
5. AAA-Bright Academy
Established as one of the major institutes of the region AAA Bright Academy offers Bank PO Coaching at Chandigarh. In Chandigarh, they offer Bank Po coaching for SBI, PNB and other private as well as government banks. The faculty comprising highly qualified intellectuals help the students in achieving their goals with the help of regular practice sessions, question banks, and the latest Bank PO study materials. With its economic fee structure for such students and various fee exemption programs, it motivates as well as support them to reach their goals.
Syllabus for IBPS PO
Eligibility for IBPS PO
The following are IBPS clerk exams eligibility conditions & all those candidates satisfying these can submit their applications:
Age limit: 20 – 28 years (+5yrs for sc/st, +3yrs for obc, +10yrs for disabled)
Education: Should have completed graduation (any degree)
Language: Proficiency (able to read /write/ speak) in the official language of the state that you are applying for, is required.
Computer Knowledge: Must have studied computer science/ IT as a subject in high school or college. If not, then you NEED to possess at least a certificate/ diploma in computer operations/ language from a training institute.
Although we have tried to bring List of 5 Best IBPS Coaching Institute in Chandigarh through our research on the basis of their student's performance and their online reviews. By the time you decide to take admission in List of 5 Best IBPS Coaching Institute in Chandigarh check the fees there. There are skilled teachers and management of coaching that may enhance your knowledge.